2200 REFLECTIVE INSULATION
PRODUCT DESCRIPTION
rFOIL 2200 has proven to be our most versatile insulation product, as our customers report uses well beyond our design expectations. Think roof, attics, walls, and even special purpose duct insulation. Now think homemade custom size cooler, camping cooker, water heater wrap, garage door insulation and shipping packaging. What do you need insulated?Imagine what you can construct from this versatile product.
rFOIL Metalized Foil Barrier has been specifically designed for insulating commercial and residential building assemblies, reducing the amount of radiant heat transfer. Adding rFOIL Metalized Foil Barrier to your construction project improves the insulation value of the building envelope and significantly increases its energy efficiency.
rFOIL Metalized Foil Barrier is constructed as either a single or double layer of polyethylene bubbles, sandwiched between two highly reflective surfaces. All products in this line are classified as Class 1 / Class A in accordance with the ASTM-E84-09 fire test standard. This product was mounted in accordance to ASTM-E2599-08.
Tell us how YOU use rFOIL 2200 Reflective Insulation
---


Thermal testing clearly shows a 53.7 degrees difference when installing rFOILb Reflective Insulation on walls and ceiling. Properly insulating any metal clad or post frame building will not only reduce heating and cooling costs, but also improve comfort.
View Brochure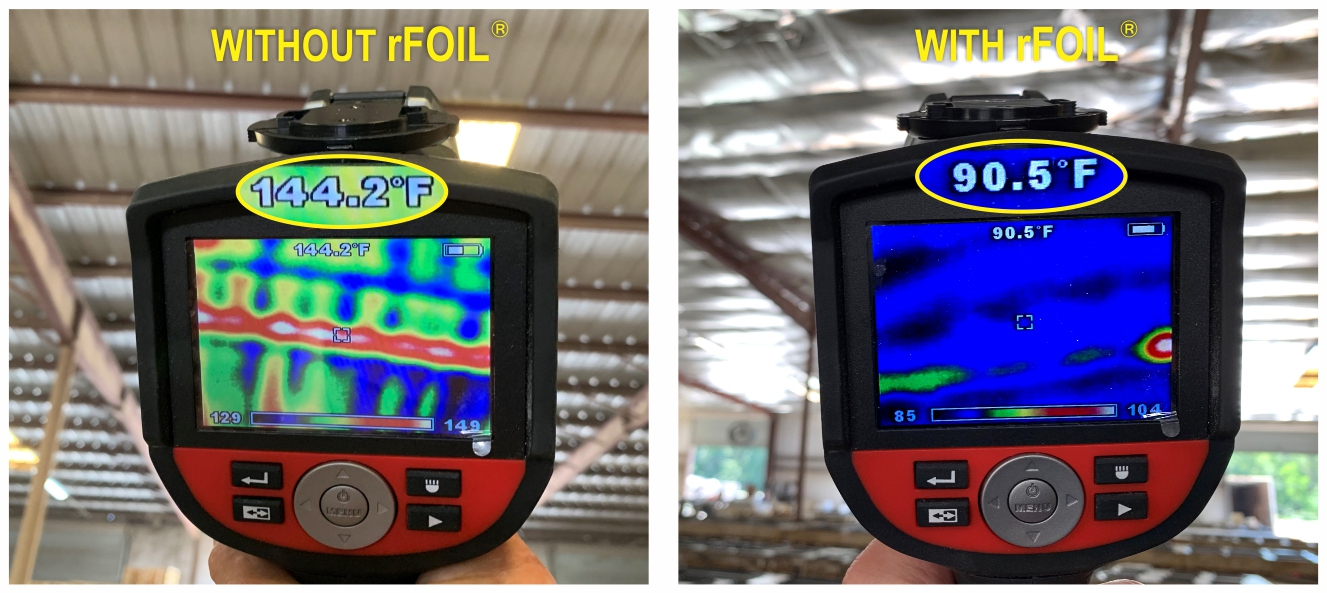 Benefits
---
Energy saving Capabilities
Blocks 96% of radiant heat transfer
Easy to handle and install resulting in lower labor costs
Lightweight and can be cut to fit any configuration
Puncture and tear-resistant
Safe,non-toxic and non-carcinogenic
Will not promote mold and mildew
Unaffected by humidity
Prevents interior condensation
Vapor Barrier
It can be installed over existing insulation to increase insulating properties as well as improve appearance
Various tab options
UV-resistant
Class 1 / Class A fire rated (ASTM E84-09)
NFPA 286 Full Room Burn Test
---